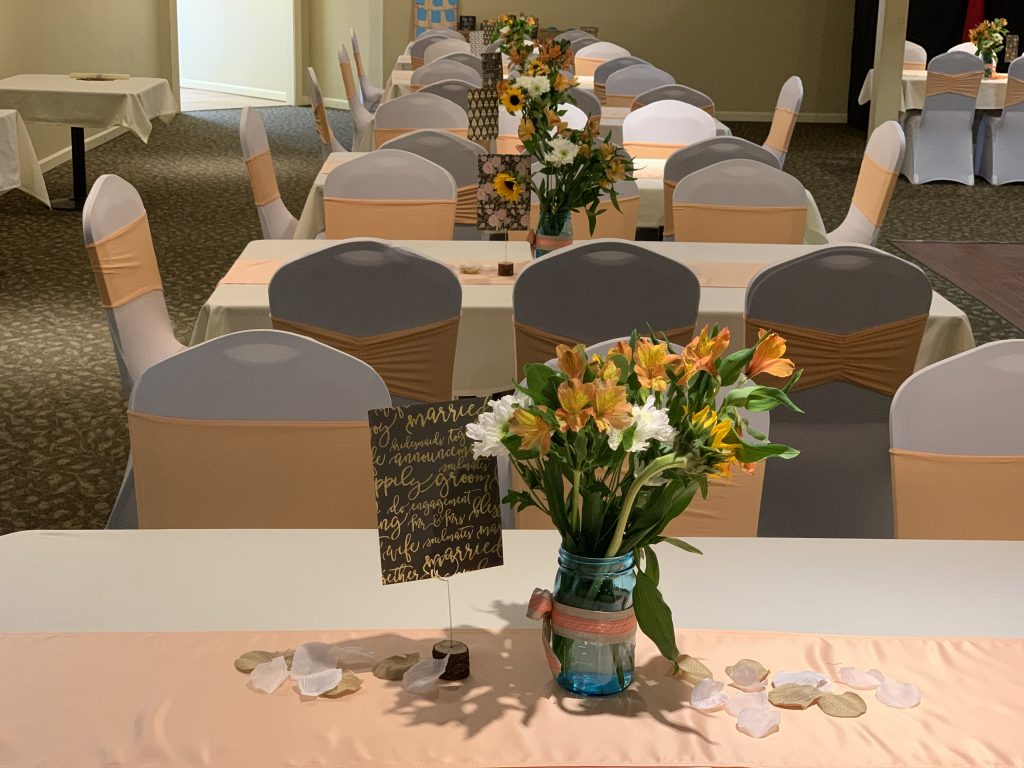 A wedding reception alone will bust your budget if you're not extremely careful. The venue is key to saving cash, so leave no stone unturned in your search! The California Room is an awesome deal that will save you money!
Of course the most obvious way to save money, is to sharply limit your guest list. Booking The California Room for your wedding receptions is easy, same price for 10 guests or 150!
You will find The California Room is your best option! We include chairs and tables that seat up to 150 people. Our rental also includes, Professional sound and lights already in place!
We don't change our prices when you say "Wedding"!
Once you've done your homework, record your findings. Chart not only the price but services and packages available at each venue. Then, it's easy to see how to get the most for your money.
We allow you to make your reception anything you want! The California Room allows outside caterers too! A popular option now is every guest brings a dish! A growing trend in the wedding industry that leaves restaurants crying over your home-style wedding reception! Our Rentals start at $300.00 for up to 150 guests for 4 hours!
Dates do book up fast for prime wedding season. Our advice, book early or be flexible.

Douglas Davis
17:19 06 Aug 20
Accomodating staff and great location

Elizabeth Grubbs
11:50 01 Jun 20

Denise Penta
16:36 15 Mar 20
Great staff,quick service polite etc.. typical hall.

charlie Spencer
04:58 05 Nov 19
Had my wedding reception here. Great staff! Customer service is #1 priority. Owner is super nice guy. 2 weeks before my wedding our caterer backed out. Reached out to Cali Room and the owner made sure this bride did not have to stress and went out and accomodated my food request in such short notice. DJ forgot to call a table up at wedding and they made my family at this table fresh hot food just for them. Food was delicious! Got a lot of compliments! Very prompt responses whenever I reached out. Would definitely recommend!! Baby shower in the near future and i already know I'd love to have it here. Thank you for everything Jeff!

Kimberly "Kim" Flynn
05:38 08 Oct 19
I had my fiance's 30th surprise party here and I couldn't have been more happy with this location! The room was clean and ready for us right on time. The bartender was extremely nice and the owner answered all of my phone calls and emails quickly leading up to my event. For the size of the room and the services provided, it's very affordable. Would definitely recommend and rent again!

Gillian Sullivan
19:24 17 Sep 19
Great service and atmosphere.

I had my wedding reception here and it was perfect! Jeff took exception care of the room to present it perfectly. It was very affordable and turned out amazing. The food was delicious and hot! All my guest raved about how great the food was! We had stuffed chicken and stuffed shells, roasted vegetables and potatoes. I was very impressed with the turn out of the room and its presentation. The photo booth was also a huge hit and all my guest loved and had fun going inside and getting to take there photo home with them! Jeff truly cares about the outcome of your event and will work with you to ensure it's exactly how you want it!

Kendal Demers
16:16 26 May 19
We just had my parents 50th wedding anniversary party here(65 people). The food was really good. We got the house salad, chicken broccoli rigatoni and the chicken parmesan, so good. They were very open to letting us organize it how ever we wanted. The whole event went great! Its hard to see the place when you are driving. Everyone said that had to turn around. Not a big deal. Maybe balloons and a road sign for your next event.

David Belanger
13:37 12 May 19
We just had my daughter's 16th birthday party here last night and it fit what we were looking for. We planned to bring our own food (a taco bar) in order to keep costs down. Just be sure to bring EVERYTHING you might need for the meal including a power strip/extension cord if you need to plug things in. We used their sound system connected to my phone to be our own "DJ" and this worked out very well. The dance floor and lights were perfect. It was the right sized venue for our 70 person group. Just be aware that all drinks have to come from them (also no tap water only bottled). We used drink tickets for the teens and cash bar for the adults. We all had a fun night!

Meleah Ross
17:10 09 Mar 19

Lisa Becotte
09:55 24 Dec 18
Good size for a Birthday Party, Clean and Friendly staff.

Kathy Blue
08:10 06 Nov 18
Great place to have a birthday celebration with friends and family! U can bring the food but no drinks...they have an open bar

Yasmin De Jesus
01:11 03 Nov 18

Robert Dionne
13:26 07 Oct 18
Awesome service! Great drink prices and great people! Attentive and individualized services to meet your needs! Large, clean space in a convenient location! Would highly recommend for any type of family event or function!

Kennedy Rodriguez
17:34 27 Sep 18
My experience was amazing Jessica helped me through every step the owner Jeff beyond helpful while we where there the best experience I had hosting an event. Such a clean well kept place i highly Recommend this place.

Amanda Fournier
21:11 26 Sep 18

gary tuson
20:33 01 Aug 18

Wallace Comeau
01:44 17 Jun 18